If you were a middle schooler in Orlando, Florida in the 1991-1992 school year and had perfect attendance through February, you were given the opportunity to get up early on Saturday morning and ride a school bus to the Orlando Arena (now the Amway Center) during the NBA All Star Weekend to attend the NBA Stay In School Jam. I know because I was there.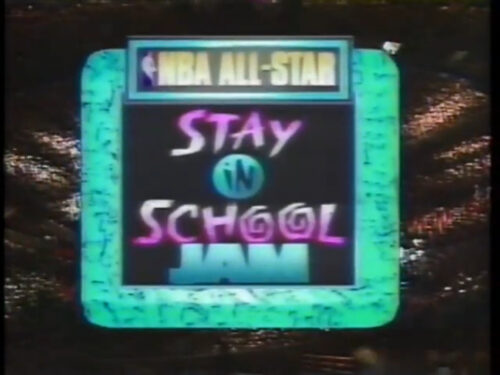 The Stay in School Jam was a (briefly) annual pro-social effort by the NBA to support school attendance and general stick-to-it-iveness. Each year a combination of celebrities and NBA players would fill an hour or two with some antics, stitched together with some sponsored public service announcements. It was an honest enough effort, but it was a really weird time.
Ahmad Rashad and Willow Bay, from NBA's Inside Stuff, hosted the event with supplemental help from a young Will Smith. Did I mention this ran on NBC? There's a ton of NBC talent involved. Mayim Bialik and Tempestt Bledsoe were there, too, as was Malcolm Jamal Warner. Non-NBC personnel included Ian Ziering, Gabrielle Carteris, Melissa Joan Hart, Corin Niemic, and Jaleel White. The Saved By The Bell gang shot a special segment. This is very 1992!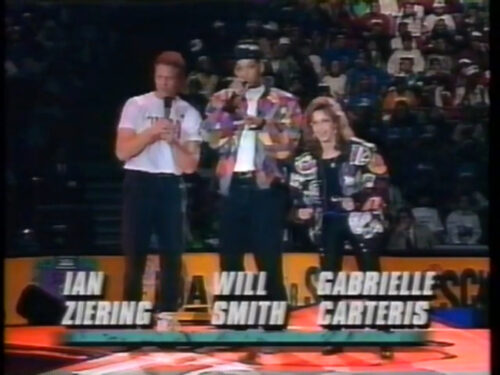 NBA stars included Karl Malone, Scottie Pippin, John Salley, Charles Barkley, and Michael Jordan himself. Musical guests included Boyz II Men, Kid n' Play, Heavy D, MC Lyte, and Hammer! What!
It's a busy hour, a very busy hour. And very bizarre. And the most prominent memory I have of the entire experience is how LOUD the whole thing was. It's hard to describe the sound of 13,000 children in an arena with hardly any grown-ups seeing all of these celebrities one after the other after the other. You can hear the crowd on this recording but in person it was eardrum-wobbling and relentless; I could not hear what was happening on the stage at all. I'd been to my share of Orlando Magic games before this and that crowd didn't hold a candle to these kids.
Here's the special itself. I was lucky enough to attend several other events that All-Star Weekend, including the All-Star game itself which was Magic Johnson's last game and a whole thing all on its own, but this weird and singular experience with 13,000 other kids is the one my mind keeps going back to.
-ds