I'm sure there are some bad British game shows, but I haven't come across one yet. They may lack in glitz compared to their American counterparts, but they tend to make up for it in difficulty. Sometimes, though, you get a brain-buster and a spectacle, like the Krypton Factor.
The Krypton Factor ran from 1977 to 1995 and pitted four contestants against each other in a variety of challenges both physical and mental. The winner was the player with the highest Krypton Factor (or score, for us mere mortals) totaled after all rounds were complete. The rounds ranged from creative writing to memory checks to 'spot the difference' challenges to trivia to physical competitions.
Each round is inventive and unique. Visually, the show is stunning. Each player is represented as a color and each color pops against a clean, minimal, retro-futurist set.
The seasons were serial; winners of each episode progressed to the next round, building to a dramatic finale at each season's end. And the wildest part? There was no prize. I mean, there was a trophy, but no cash reward or trips or boats or anything like that. Achievement for the sake of achievement. Wild!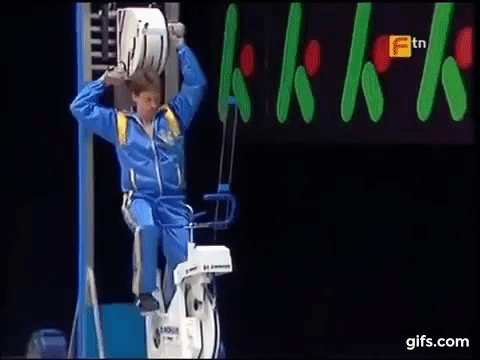 As expected there were multiple attempts to export the idea to the United States, but none really succeeded or lasted very long. It remained a predominantly British institution through its run and a short-lived reboot in the late aughts. Great name, gorgeous set, tough questions, great tracksuits. Krypton Factor, we salute you.