Take a little bit of Dungeons & Dragons, add a little bit of The Hitchhiker's Guide to the Galaxy, put it in an "escape room" format and you've got "The Adventure Game", a brilliant, stylish, charming, original game show aired on BBC between 1980 and 1986. Can you tell I like it?
The game takes place on Arg, home planet of the Argonds. The Argonds are a mischevious race of dragons who are sick of all of the "trippers" from Earth coming to their planet via time (and space?) travel.  The travelers are celebrities, a different set each week.  The Argonds sometimes steal the crystals from the traveler's ships, and the travelers must solve a series of logic puzzles and riddles to get their crystal back so that they can leave.  The viewer gets to watch each team of travelers work the puzzles out.
The rooms vary in the sorts of puzzles offered. The contestants might have to decipher a shapes and colors puzzle…
…solve an escape room puzzle with many moving parts…
…or play a text-based adventure game on a computer.
The premise and format of the show would evolve through the years; the Argonds went from being dragons to being furry creatures to being furry dragons to being…potted plants?
Also cool is that one of the series 1 contestants, Lesley Judd, returns in subsequent series as "the Mole", a character who impersonates a fellow contestant but who is really an Argond.
The set and costume design are top-notch as well; the 1980s vision of the future is alive and well on Arg with its white walls, accent colors, single-tone outfits and focus on geometry.
A fun premise on a gorgeous set, with interesting puzzles and celebrities figuring those puzzles out.  No prizes, no immunities, no backstabbing, just fun.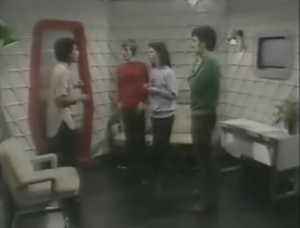 Can I move to Arg?
Here's an episode.
https://www.youtube.com/watch?v=3DOcgnsGqqs
-ds