Gambit, the blackjack-themed game show, has a sort of complicated history. Originally premiering in 1972, Gambit was an instant success, beating out competing shows Sale of the Century and a pre-Trebek Jeopardy! In 1975, though, a hot new show called Wheel of Fortune came on the scene and pretty much obliterated Gambit in the ratings, leading to its cancellation in 1976.
Cut to 1980. Failed daytime talk show experiment The David Letterman Show was pulled off of the air and the idea was to revive Gambit to take its place. The Gambit 2.0 twist came in the form of a live show from the Tropicana in Las Vegas, and Las Vegas Gambit was born.
And then died again a year later, but whatever.
Wink Martindale hosted both iterations of Gambit.  Is Wink Martindale the poor man's Chuck Woolery, or is it the other way around? Wink's game show career started earlier, making him the incumbent. However, Woolery's first game show gig, the aforementioned Wheel of Fortune, spelled the original Gambit's demise.  Woolery's got the more impressive resume: while Wink had some solid shows including Tic Tac Dough! and Debt, Chuck's got Love Connection, Scrabble, The Dating Game, and (a personal favorite) Lingo.  Personally, I'm going to give the point to Chuck.  Wink's got an unsettling way of talking to the audience, to his contestants, and to women in particular. I'm not saying he's our reality's Randall Flagg, I'm just pointing out that he's never been in the same room as Randall Flagg.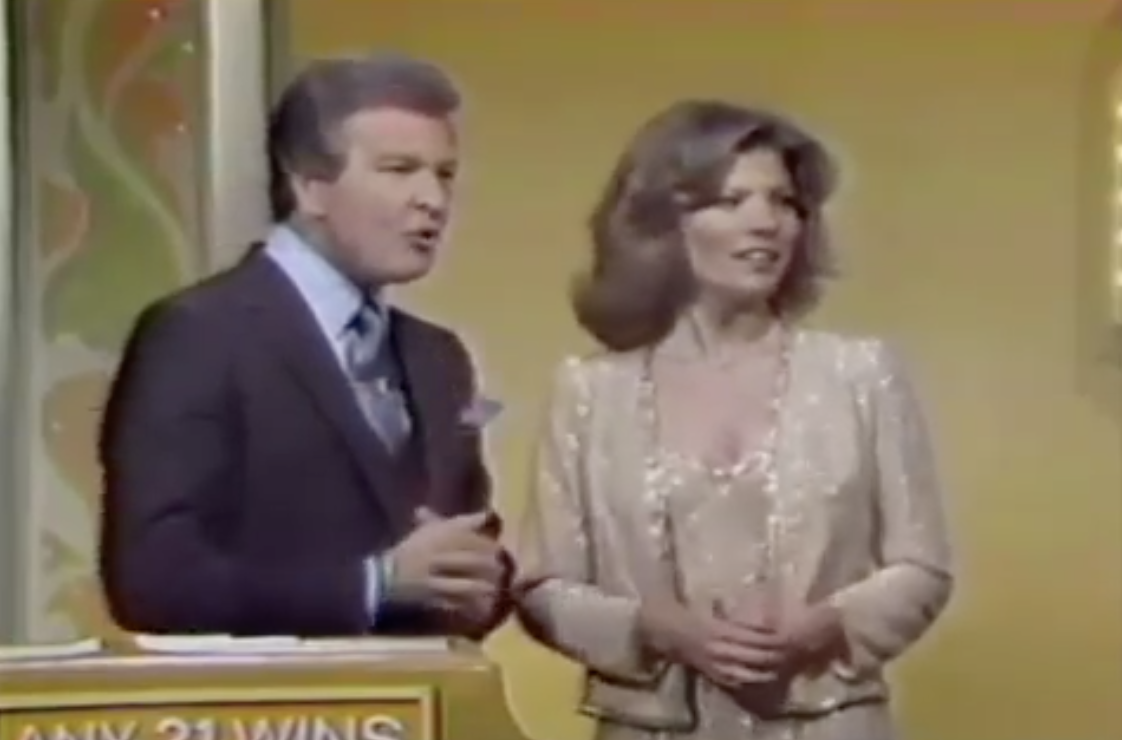 There are a few things about Las Vegas Gambit that are special – first of all, the set is a fantastic tribute to Vegas-style gaudiness.  Covered in gold and rich in font treatments, the first part of each Gambit match is a trivia round with correct answers rewarding cards which are then built into a blackjack hand.  Two teams compete, the first team to reach as close to twenty-one as possible without busting moves on to the final round.
The final round, the Gambit Galaxy is some sort of casino from the (1980s) future, boasting a wall of screens and a single craps table.  The contestants roll oversized dice, using the resulting numbers to clear out the screens. If they can do so, they win it all.
The other noteworthy thing about Las Vegas Gambit is the enthusiasm. Part of this is thanks to the era; these were the days of Let's Make a Deal, Press Your Luck, and the original The Price Is Right, and contestants in general were just generally more amped-up than they are these days. Still, though, it comes down to whoever's job it is to pick contestants picking good contestants, and Las Vegas Gambit got that part right.  In the below episode, this lady's life changes.  That's significant.
Speaking of this episode, it's a real roller coaster. I recommend watching the whole thing.
By the way, Las Vegas Gambit had awful ratings and was cancelled in 1981.  Sorry, Wink.  Speak more considerately to all genders next time.
-ds