The Stephen King Library
Stephen King's pretty well-regarded nowadays, but in the 1980s and 1990s he had a polarizing level of fame. While he had a dedicated fanbase, he tended to be regarded in the mainstream as a shlocky horror writer who put out a new book every week and opinion of him was formed on whether you liked that sort of thing or not.  He was a bestseller, sure, a rockstar of a writer, but it seemed like there was a level of respect for his writing that he never got.
Besides the fact that his crazy creative output in that era meant you always had something new to read, the volume also provided an easy business opportunity in the space that Time Life and Columbia House had forged – subscriptions.  Enter the Stephen King Library.
For $7.95 (the first time, $14.95 each shipment thereafter) you got a new King book, hardback. It's crazy to me that there could be a book subscription service for one author, but there you go. I love the commercials for the service; this one seems to imply that publishers are approaching people on the street to try to sell Stephen King books:
While I love the cheesy comments and the hokey "scary music", the comments reinforce that shlocky image that King's writing had back then. It's not wrong, really, just… incomplete.  The narrator also clearly hands the first guy a copy of Needful Things but calls it Dolores Claiborne.
*wheeze*
Here's some commercials for specific books – The Stand, which would be a steal even then at $7.95:
https://www.youtube.com/watch?v=VDC216wFedQ
I love that the extra content is pitched as something that we "weren't allowed to see before". Here's one for Gerald's Game:
These visuals aren't really backing up the content of the books themselves; did anything really come up out of the ground in The Stand? That's more of a Pet Semetary thing…
The Stephen King Library is still alive and kicking, too! That's even crazier to me than the fact of its existence. I'm just glad that time has borne out King's reputation as a great writer and we can all now move on to arguing about whether those fat cats in Hollywood are doing his work justice. How many days until The Dark Tower releases?
Coming Soon: Portable Computers!
Here's a cringeworthy trip through all of the newest tech for those geeks with tons of disposable income in 1994.  It's neat to see how big our ideas were and how limited our ability to execute those ideas was. The delay on that videophone cannot be unseen.
That's, what, $9,000 worth of tech in that video? $10,000? And a printer you can use in the car? Worthless.
K-Tel Records: Looney Tunes
From the people who brought you the Sesame Street soundtrack, here's Looney Tunes. Not the Looney Tunes you're thinking of.  It's weird.
I'm Telling!
Even weirder? How about I'm Telling!, which is basically The Newlywed Game but with child siblings instead.  This one didn't last long – it ran from September 1987 to March 1988.
Uncle Sam Says Garden
Beautiful poster encouraging Americans to grow their own food in order to cut down on waste.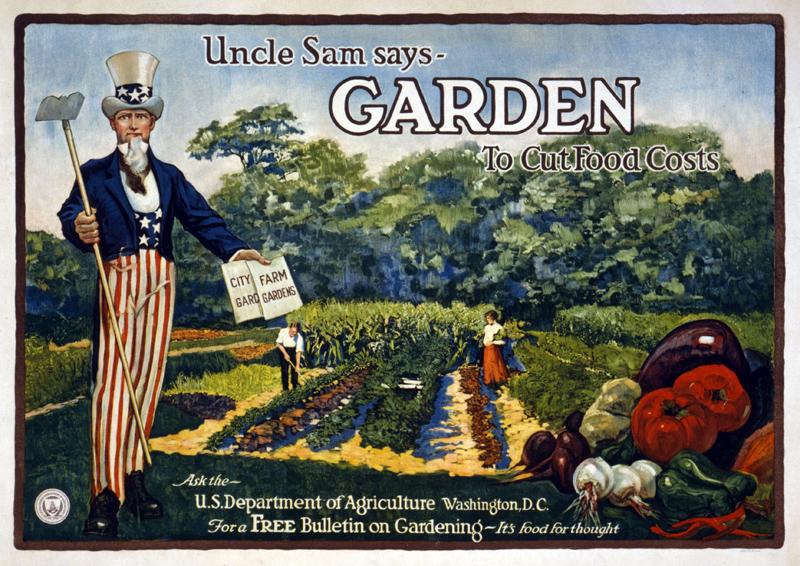 -ds