I usually fill up December's Five Things with one of my favorite, well, things: old toy ads.  I decided to expand things a bit this year as you've seen the past few weeks but I still wanted to focus at least one week exclusively on toy ads, and what better week than the lead-up to the ultimate toy day of the year? Merry Christmas, or Toypocalypse, whichever you happen to celebrate. 
1.  Kenner's Star Wars Line – The Patient Zero of licensed movie products, here it is at its genesis.  This minute-long ad has C-3PO and R2-D2 employed by "the Earthlings at Kenner" to introduce the Star Wars games and toy line.   Included in this ad are the Death Star playset, the land speeder, a remote-controlled R2-D2, and more.
2.  Poochie – This Poochie's not the kung-fu hippie from Gangsta City, but she still keeps it real.  It's pretty confusing what Poochie's role here is – the ad seems to imply that Poochie enables a girl to say what she means and how she feels, like she wasn't able to do that beforehand.  Is Poochie some sort of Dumbo-feather, then, a false totem of confidence? We'll never know. Frankly, it's all a little insulting. Any Poochie girls still out there?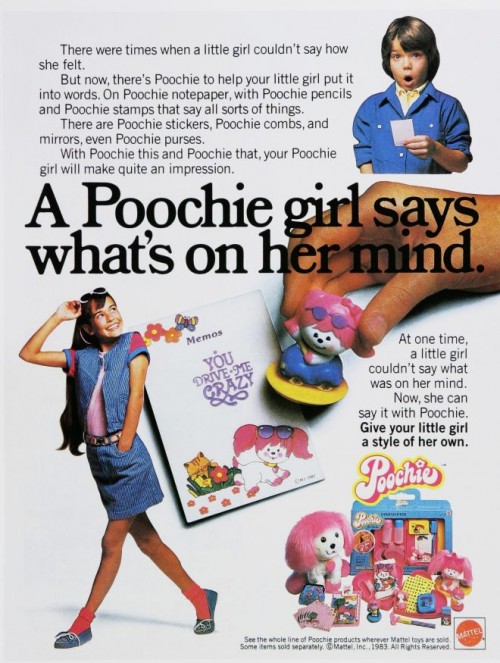 Interestingly enough, this is from 1983.  It feels much more '90s than that, doesn't it?
3.  Dungeons and Dragons – It would be difficult for this commercial to be less about Dungeons and Dragons than it is.  It's got some sort of mashup thing going on where lines of dialogue crash into each other and the narrator's sweating trying to fit in important disclaimers.
4.  Suzy Homemaker – Ugh.  My disdain for this toy is tempered only by my love of the simple layout. "She gets more fun out of being a cook than a kook"!
5.  Game and Watch – Before NES, before Game Boy, this was the Nintendo product to have.  Look at all of these teens having fun with a tiny hand-held mini-game!
Neat to see the animated Donkey Kong and Mario & Luigi, though!
Happy Toypocalypse!
-ds