1.  The Hilarious House of Frightenstein – Canadian kid's television is its own sort of weird, beautiful monster.   There's not really a better example of that fact than The Hilarious House of Frightenstein, a 1971 sketch comedy show that incorporated familiar horror and pop culture elements to make something that was truly unique.
The show was hosted by Count Frightenstein, an exiled descendent of Dracula who was tasked with animating a monster named Brucie, Frankenstein-style.  If he was able to do that, he'd be accepted back into Transylvania.  At least, that's how Vincent Price lays it out in the show intro.
The Count's task was the backbone of the series, but there were tons of other elements in there too. Like a Wolfman DJ that played top-40 hits of the day, Wolfman Jack style:
The show also took the opportunity to teach kids about things like grammar, animals, and science with regularly occurring segments for each.  There were a ton of side characters on the show, most played by Billy Van who played the Count.  130 episodes were produced over 9 months (wow!) and the syndication run lasted quite awhile.  There's a chance you could still see them today!
Here's a full ep.
Another fun fact: Vincent Price recorded all of his bits for the show (400 in all) over 4 days!

2.  George Plimpton vs Billy Martin – So last week I shared a commercial where George Plimpton,  the famous amateur sportsman journalist, gushed about the Intellivoice module for the Intellivison.  He was a spokesman for the entire brand, not just that module, leveraging his sports know-how to prop the system up:
Well Atari took that jab to heart, created a line of games that looked a little bit better than the ones before it, and got Billy Martin to appear in a commercial and strike back at Plimpton:
It's kind of a laughable level of antagonism.
3.  Color Phone – Here's a 1950s ad from Western Electric advertising that their phones come in different colors.  That's a pretty big deal for the time, and a beautiful ad!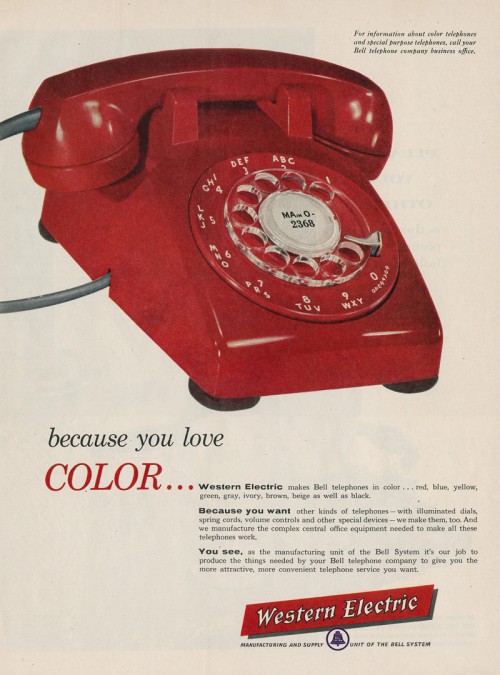 4.  Coffee Perks You Up! – The Pan-American coffee producers would like you to know that coffee perks you up, but not too much that you can't drink it at night, and also that Santa himself drinks it to stay up, but it doesn't keep him up too late at night unless he's in that 3 out 100 "other folks".
I gotta say, that's a pretty great Santa.
5. Coca-Cola Christmas – Speaking of perks, here's a commercial specifically pushing Coca-Cola's benefits in the area of recreational ice skating.
-ds