1.  Alyssa Milano's Teen Steam – Alyssa Milano, Queen of the '80s, lent her talents to this god-awful workout video aimed at teens who really needed a productive way to burn off that suburban angst. For some of these kids with serious issues, like having to babysit your younger brother instead of going out, it was either expensive therapy or the Teen Steam routine.  This thing was advertised in every commercial break on Nickelodeon and MTV from 1988 to 1990.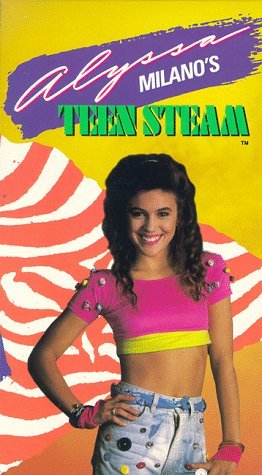 Alyssa takes you through a half-hearted 20 minute routine that amounts to not much more than a few stretches, then walks through a mirror into an empty studio-slash-alley-slash-fight-club to lead a group of suburban teens in the Teen Steam theme song.  Either this dance is meant to finally "get it out" or to celebrating having already gotten it out.  It's hard to tell.
Here's part 1 of the video.
There are not enough stern looks and finger-wags in the world for the adults who happened to be in the studio while this was filming.
2.  Brite and Wild – So Much Pileup's got some pictures of this beautiful paint kit, an awesome find.  Hit the link for more pics.
3.  The Last of Us prints – A strong contender for my 2013 game of the year, Naughty Dog's The Last Of Us ranks as one of the most personally emotional games I've ever played.  One of my favorite aspects of the game is the hauntingly empty setting of the cities and the developments of a few years in which the Earth has had a chance to reclaim some of its territory.  Brandon Meier's got a set of prints that capture this feeling pretty well, wrapped up in a slick minimal design. These are a couple of my favorites.
4.  Rice Krispies Box Art – Equally inspiring but probably less emotional, here's a beautiful early Rice Krispies box.
5.  1980s Cellular Phone – Motorola produced this video in the '80s for…someone? Only a few thousand cellular phones in use in the country at the time –  how things have changed.
 Paging Zack Morris…. oh wait, pagers aren't invented yet? Sorry.
-ds