1.  Oz Theme Park – So apparently, in North Carolina, there's an old theme park dedicated to The Wizard of Oz.  I know! It was built on Beech Mountain, a resort town, in an effort to keep the area profitable year round.  It focused on the book series rather than the movie, opened in 1970 and closed in 1980.  After that it fell into beautiful disrepair, as Seriously For Real shares:
The Tin Man's house:
I want to jump into this one of the Scarecrow's house:
The park was restored about ten years after its closure, and seems to be open for business again…ish.  You can apparently rent the space out for parties, and they have a fall festival there every year.   I know what I'm doing this fall. ALL FALL.
2.  Omni Covers – To celebrate the news that OMNI Magazine is being revived from the dead, here are a few amazing OMNI covers from days gone by.  Hopefully the new batch has covers equally as inspiring.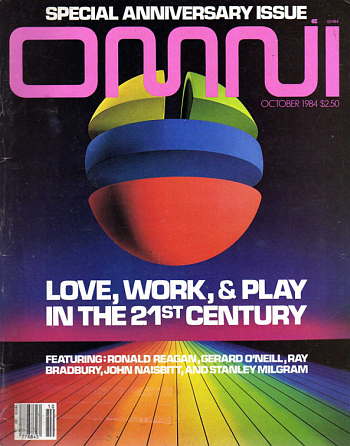 And a gorgeous, gorgeous ad asking for subscriptions:
3. Clonus – The movies featured on Mystery Science Theater 3000 seem to fall into two camps: the bad (or amateurish) attempts at bad ideas and the bad (or amateurish) attempts at good ideas.  Parts: The Clonus Horror, to me, falls into the latter camp.  It's got a really fun premise: a guy escapes a clone farm funded by the rich elite to serve as an organ bank and has a tough time of things in the real world.  It was a good enough idea to rip off in the 2000's with "The Island", for sure!
One thing Clonus did get right was the graphic design.  Here's the movie poster, making the film look like more of a horror movie than it actually is but STILL – intriguing! The font on the credits is what catches my eye here.
That look carries over to the Clonus corporate logo, shown here on the DVD cover (with a very un-Clonus font welcoming you to America):
And finally, this shot of the title shows everything that was right with the movie: great font, grainy, yellowed-out seventies look, industrial-yet-lush-looking future.
Nailed it! Just don't listen to any of the dialogue or watch any of the acting.
4. Final Fantasy IX Coke Commercial – Here's a commercial that aired in Japan featuring the computer-animated characters from Final Fantasy IX chasing and sharing a Coke.  This came out before the game released, and appears to be custom-animated in that it doesn't shoehorn any existing FFIX cutscenes into the spot. Pretty noteworthy for that fact alone. It's got that gorgeous animation that Square is known for with their Final Fantasy games.
5. Sugar Free Krinkles – Not as heartwarming as the Coke ad.  Not by a long shot.  Nightmarish, I'd say.
-ds