1.  Parker Brothers Video Games Board Games Ad – From the height of video game coolness, here's Parker Brothers' attempt to cash in:
I can't imagine the Pole Position board game matching the fast-paced action of the arcade classic.  My favorite part about this ad is that they suggest that playing the Popeye board game will help you become better at the Popeye video game – that the board games are training modules for the arcade versions.  Also, who went to an arcade and played Popeye?
2.  Doctor Who: Downtime – So, say you wanted to make a Doctor Who special but didn't have the license to use Doctor Who or even say his name.  You'd probably just move on, right? Not if you're Reeltime Entertainment, who released Downtime direct to VHS in 1995.  The special featured prominent characters from the Doctor Who universe, namely the Brigadier and Sarah Jane Smith, teaming up to solve a mystery without the Doctor.  Who needs that guy anyway?
The special sounds atrocious.  But the VHS boxart is great!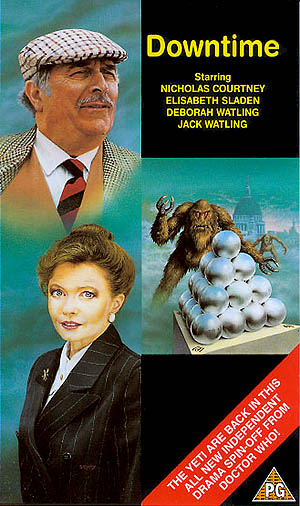 As is the soundtrack:
3. Atari 1970 Lineup – Did you know that Pelé quit soccer to play Atari?! Why would you give Pelé that line to say like it's a good thing!
4. 1970 MEGO Toy Line Commercial – Here's a long commercial for MEGO's superhero toy line that seems to display no real knowledge on MEGO's part of who the superheroes featured are or what they do.  They even go so far as to refer to Falcon as "That great black superhero."
Tarzan is a superhero? The Human Torch can go faster than the speed of light? Mister Fantastic can turn invisible?
5.  Walk the Dinosaur – The only thing better than this song is the enthusiasm displayed by Was (Not Was) while singing this song.  It's amazing to think this song (and video) were once taken seriously.
-ds