1.  Milton Bradley Microvision – Before 1979, handheld video games were one-trick ponies, like this guy: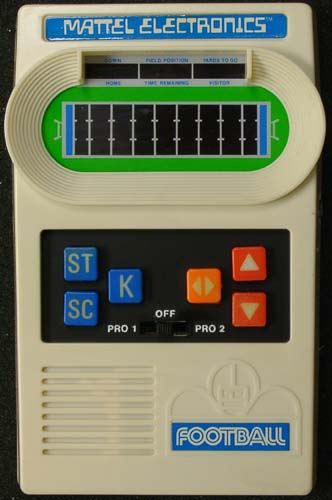 Sure, maybe there were a few different variations of football included in the game (Australian rules?), but it's pretty much one thing.  Milton Bradley changed all of that with the Microvision, a hand-held game system that used interchangeable cartridges.  Look at this handsome devil, courtesy of VintageComputing:
Each cartridge had its own faceplate for the Microvision, and the faceplates would dictate which buttons were used.  Mattel used a similar tactic for Intellivision controllers when they launched the console that same year.  A total of 13 games were released for the Microvision – one of which was a Star Trek game with gorgeous packaging:
Lack of further support crippled the system, and it was discontinued two years later in 1981.
Also from Vintage Computing, a great flier for the system:
2.  Fright Zone – Castle Grayskull had a drawbridge.  Snake Mountain had a voice-changing microphone.  But nothing compared to Fright Zone.   The Evil Horde had their own evil lair in Eternia, complete with a HUGE LIZARD:
The lizard part was actually a hand puppet, which is pretty awesome until the part where you lost the hand puppet.  But then I guess you could design your own sock puppet monster and make it even more awesome.  Here's a spot for the playset; I think the kid is ad-libbing He-Man's lines:
Is it just me or does the playset seem a little…primitive? I remember the Horde as being a little more tech-savvy than this. Still, awesome.
3.  Pitfall II-  The sequel nobody played.  Nobody I know anyway.  Activision released a followup to the insanely successful Pitfall game with improvements pretty much across the board.  The game had a musical score, extra characters, swimming, checkpoints that you could continue at after you died, and vertical scrolling across twenty-seven horizontal levels.  That's big stuff.  The box art is pretty fantastic as well:
Looks like it was made recently as an homage, doesn't it?
The game was ported to just about every system that existed at that time and made its way into arcades in a sort of weird hybrid with the original Pitfall. It seems like it was pretty ubiquitous, but that said I never heard about this game until recently.  I was a Pitfall I man.  Maybe my parents conspired to keep me that way.
Here's some gameplay:
4.  The Andy Griffith, Don Knotts, and Jim Nabors Show – Fans of The Andy Griffith Show should enjoy (and recognize most of the jokes of) this live special aired on CBS in 1966.  Those who aren't fans of Andy Griffith should still enjoy the CBS intro.  Still, the song and dance is a little weird and should be viewed by all.
5.  ABC After School Special Intro – I love this 1979 ABC After School Specials Intro – what a weird and trippy sequence:
-ds