To keep the holiday spend-a-thon going, I wanted to share some of the more memorable toy commercials of my childhood.  These aren't necessarily toys that I wanted, just toys that were thrust to the center of my radar by catchy or annoying ads.
1.  G.I. Joe Aircraft Carrier – The Holy Grail of 80's boyhood, the G.I. Joe Aircraft carrier was roughly the size of a sedan.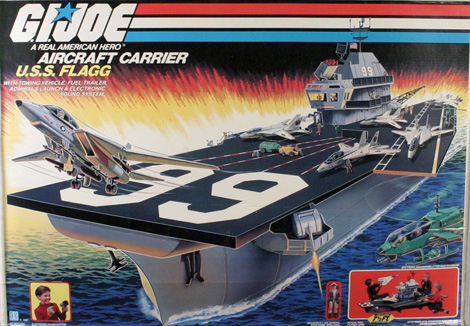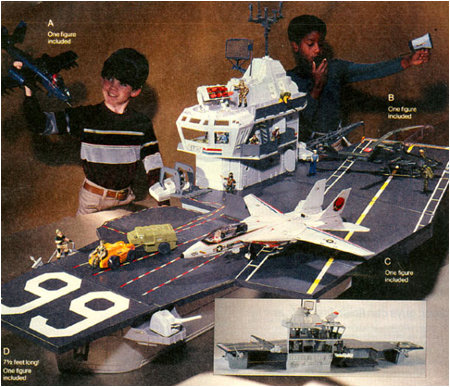 The U.S.S. Flagg was actually about 7 1/2 feet long and split open to allow you to play on the lower decks.  It was easily the most extravagant toy I had ever seen in person – I have fond memories of epic battles spanning muliple licenses – G.I. Joes, Transformers, Masters of the Universe, Rainbow Brite, and M.U.S.C.L.E. men all working together to fight evil.  It was serious business.
Here's the ad for it – this kid's playroom is freakishly sterile!
[youtube http://www.youtube.com/watch?v=jB3lcyd2KX8]
2.  Mr. Mouth – An inspiring game in which a stoned-looking happy face spins around while the players fling multi colored tiddly winks at it, Mr. Mouth pretty much does everything exactly right.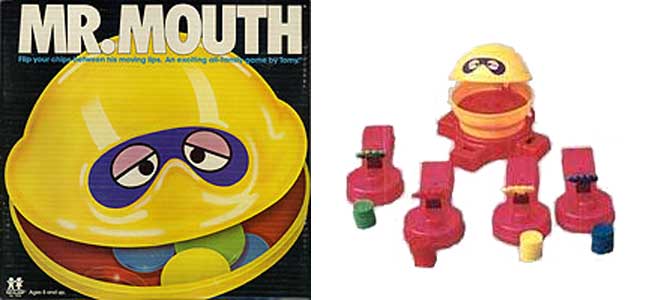 TOMY later revamped Mr. Mouth to be a big green frog, which instantly kills the whole idea and makes it lame.  This guy, and the accompanying box art, is where it's at.
3.  Power Wheels – A battery-powered mini-vehicle that runs for about 20 minutes at a time? Sign me up!
[youtube http://www.youtube.com/watch?v=rpvf_4EB0ug]
The part that gets me in this ad is the girl dressed like an old lady driving and old-timey Roadster at about 0:12 in.  They made old-timey Roadster Power Wheels?
4.  My Buddy/Kid Sister – I had no real desire to get a My Buddy doll, but I have to admit that the commercials for it made me wonder if I was supposed to want one.  The only real attempt I think I've ever seen to market dolls to boys, the My Buddy ad had such a catchy song.  Then, they came out with a girl version called Kid Sister.  The song is the same, with a few distinct changes: in the My Buddy ad, the boy sings "Wherever I go, he goes." Third person, matter of factly,  flatly explaining the nature of the boy/My Buddy relationship. The equivalent line in the Kid Sister ad is "Wherever I go, you're gonna go." Second person, imperative.  A totally different relationship.  Emphasized further by the fact that the girl doll is a Kid Sister as opposed to a Buddy, implying some sort of dominance by being the older sister.
It's a rabbit hole.
[youtube http://www.youtube.com/watch?v=4j2xEwEHbrE]
5.  Teddy Ruxpin – I love, love, love the idea of Teddy Ruxpin. A stuffed animal that talked, telling stories based on whatever cassette tape you put into him at the time? Gold.  And then you could attach other stuffed animals to him and they'd act out the stories together? Platinum.
This ad ran so often when I was a kid. I always felt bad for the kid doing the show-and-tell, the other kids in the class were so rude to him.  Then, Teddy talks and they get all interested…and never apologize to the kid.  Their eventual interest is supposed to be the apology? Sorry, no dice.  That kid should have had a little more integrity.
[youtube http://www.youtube.com/watch?v=8EshrR-xk2E]
Then Grubby came along, a caterpillar pal of Teddy's.  If you linked them up, they'd tell the story together. Or sing.  It was like having a Showbiz Pizza in your house!
[youtube http://www.youtube.com/watch?v=h0sgFxFeuqM]
They're having a birthday party for Teddy Ruxpin? And giving him his best friend? That girl's face at 0:16 is either delight or horror, it's too quick to tell.
That's it for this week – we'll probably do some more commercials next week to stay in the spirit and then it's back to the usual stuff.  Ho, Ho, Ho!
-ds