1.  Evil Grimace – Did you know that Grimace, that proto-Patrick Star McDonaldland representative of milkshakes, used to be a bad guy?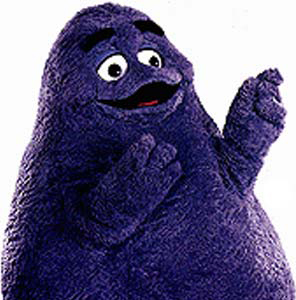 This guy! Started out as this guy!
In 1971, he was introduced into the McDonaldland ad campaign as a bad guy, his purpose being to steal milkshakes.  He was re-introduced in 1972 as a good guy, and continues to serve the Light to this day.  He also used to have two sets of arms until his redesign in the mid-70s (continuing through the 80s) to make him more and more kid friendly.
Grimace also has an extended family now, as revealed in the VHS special "The Legend of Grimace Island".  The only character we see outside of this VHS is Uncle O'Grimace,y, who shows up around St. Patrick's Day to bestow Shamrock Shakes upon the world.
2.  Jackson 5 Motown Audition – The video and audio quality on this video are terrible, but it astounds me that there was a camera present to record this moment at all.  This recorded audition was sent to Motown founder Berry Gordy, whose initial reluctance to sign the act was wiped away when he saw the performance. This is such a historic moment, I just can't get over the fact that we're able to witness it.  Future-world, indeed.
3.  Kids Magazines from Italy –
DJ Food
posts on his
blog
about a great find – a bunch of Italian kid's magazines from the 60s and 70s.  DJ Food's one of my favorite electronic acts, and I'm pumped that he's shared this bit of ephemera.  Here's hoping he'll share some more from this stash!
4.  The Black Hole- This Walt Disney Production was released in 1979, and as a child it terrified me.  It was not the usual Disney fare, but my love of space and robots compelled me to watch it despite my fear.
There's so much great design here, from the ship's architecture to the wardrobe to the robots. And it's a pretty cool story! Here's the trailer:
5.  EPCOT publicity materials –  The 30th anniversary of EPCOT is in October of this year (I kind of want to go), and while looking up details about it I stumbled across a post from 2007 on 2719 Hyperion's blog.  This post was made around the time of the 25th anniversary and features a PR pamphlet mailed out before the park's debut in 1982.  EPCOT's story is a rather interesting one – it began as a very grandiose dream by Walt Disney, who died before it could be executed.  With the success of the Magic Kingdom, all eyes were on the Disney corporation to deliver on Walt's promise.  The end result was something less than Walt's idea of a community/endless World's Fair, but it truly inspired me as a child.  I'm not terribly fond of the direction the park has taken recently, but there's something about EPCOT and the idea of EPCOT that will always hold a place in my heart.
Anyway, the interesting thing (to me) about this pamphlet is the variation in design as you go through it.  Here's the cover: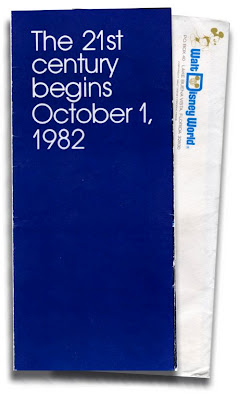 Real simple and basic, but also futuristic.  Here's one interior page:
WAY different – obviously much more detailed and complicated, but also it just feels of a different cloth than the cover.  Then, there's this:
This seems much more like a "classic" sell than the others, but really encapsulates the feel of what the intent of the park was.  I love coming across paintings of what EPCOT might have looked like, so this really speaks to me.  Taken altogether, the pamphlet makes sense, but it's interesting how many  different design approaches it takes to get there.
Happy 30th birthday, EPCOT.  Now bring back Horizons.
-ds